SolaHD SCP Single Output Power Supply, 85 to 264 VAC/100 to 375 VDC Input, 15 VDC Output, 100 W, 2.5 A, DIN Rail Mount
DC Power Supplies
SolaHD™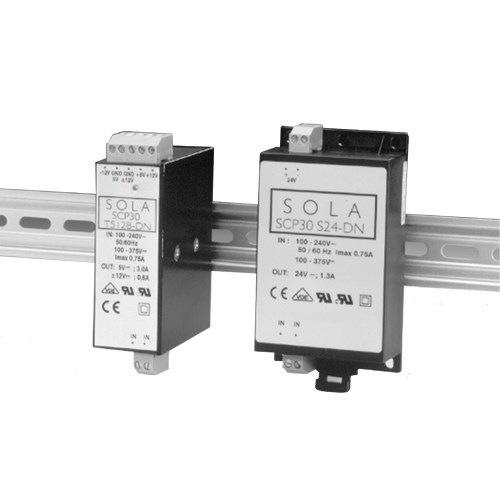 These switchers are compact, rugged power supplies designed to power many of your industrial control and instrumentation devices and equipment, with high reliability and tight regulation through the most difficult factory-floor conditions around the globe. "User friendly" applies to these unique power supplies that feature easy-to-install DIN Rail and chassis mounting. Terminations are also easy to access (AC and DC terminations are well separated) and simple to wire. Safety is another aspect where the SCP distinguishes itself. The encapsulated design meets IP20 specifications, and the wide range of voltages will reliably support almost any low-power device in your cabinet or system for years to come.
Industrial Control, Process Control, Machine Control, Building Automation, Instrumentation
International approvals for global use, DIN Rail or Chassis Mount, Rugged, encapsulated design to resist environment, IP20 protection.
International approvals for global use
Rugged, encapsulated design to resist environment
IP20 protection
M3 screw clamp terminations
+/-0.5% regulation on main output
75% efficiency
-25 to 65 deg C operating
15 V at 2 A output
30 - 100 W
UL94-VO