Lithonia Lighting® CMRB-50 CMRB Line Voltage High Bay Aisleway Occupancy Sensor, 120/277 VAC, Passive Infrared Sensor, 67 deg
Fixture Mount Occupancy Sensors
SensorSwitch™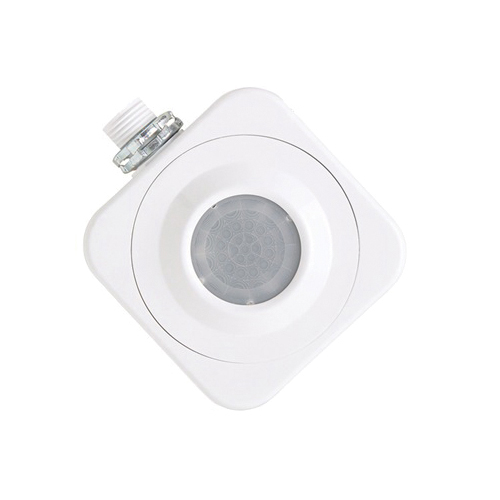 The CMRB 50 Series High Bay Aisleway occupancy sensor provides bi-directional detection extending 70-110 ft (21.33-33.53 m) when mounted at heights of 30-45 ft (9.14-13.72 m). The CMRB 50 installs to a junction box or fixture with a 1/2 in knockout and has a detection pattern that covers the area lit by three typically spaced high bay fixtures. Therefore, when mounted at a fixture, the coverage area extends out to the area that is lighted by each of the neighboring fixtures. This effect is useful with some ballasts that have a delay such that when traveling in a fork-lift truck, lighting needs to be initiated on ahead of the truck.
Entertainment/Theatrical, Hospital, Library, Loading Dock, Locker Room, Manufacturing, Retail, Warehouse/Storage
The CMRB 10 Series occupancy sensor mounts directly to the end of a pendant or surface mount fixture and utilizes the industry's leading Passive Infrared (PIR) technology to provide maximum viewing from the ceiling. The sensor is line powered and can switch loads directly without the need for a power pack. When mounted at 9 ft (2.74 m), this sensor views up to 28 ft (8.53 m) in all directions. Its circular coverage pattern is designed for walking motions; making it ideal for T-shaped intersections in corridors, or other areas where wall mounting a sensor is not practical. The CMRB 10 is also the best sensor for low ceiling applications. For example, when mounted at only 7 ft (2.13 m), the height of pick aisles in many distribution centers, the CMRB 10 provides a 32 ft (9.75 m) diameter pattern of coverage. In applications where detection of minor motion is also required, the CMRB PDT 10 Series Dual Technology sensor is recommended.
Compatible with electronic and magnetic ballasts, CFLs, LED and incandescent