Wiremold® WallSource™ WSA42-4 4-Gang In-Wall Box, 9-3/16 in L x 5 in W x 3-1/4 in H, Steel
Raceway Outlet Boxes
Wiremold®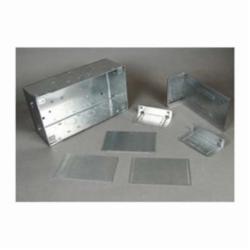 Wiremold® WallSource multiple Service boxes provide power and communications connectivity through a single access point in the wall. Keeping up with technology advancements is a breeze! By using 5507 Series Faceplates, WallSource multiple Service boxes can accommodate a wide range of power, communication, and A/V solutions. WallSource boxes quickly mount in walls with standard 16 in [406 mm] on center studs. Adjustable mounting brackets offer the flexibility to flush mount WallSource boxes within multiple wall thicknesses. Knockouts located in both the top and bottom of WallSource boxes provide easy access for a variety of power, communication, and A/V services. Easy-to install slide-in dividers provide separation for power and communication or A/V wiring.
Commercial, Office, Residential
Increased productivity. Housing power, communication, and A/V services within one aesthetically-pleasing in-wall box eliminates the need for multiple drops and saves installation time. Color options. Device mounting brackets and trim rings are available in white, ivory, black, gray, and light gray to match any decor. n Dividers. Field installed barriers provide shielding to allow communications and power within a single in-wall box.
Increased productivity
Housing power, communication, and a/V services within one aesthetically pleasing in-wall box eliminates the need for multiple drops and saves installation time
Color options
Device mounting brackets and trim rings are available in white, ivory, black, gray, and light gray to match any decor
Slide-in dividers separate the box for power and communication services
Adjustable mounting brackets offer flexibility to flush mount box in 1/2 in, 5/8 in, 1 in, and 1 1/4 in (12.7mm, 15.9mm, 25 mm and 32mm) wall thicknesses
1/2 in, 3/4 in, 1 in, and 1 1/2 in trade size knockouts