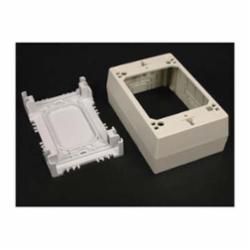 Wiremold® products work together seamlessly to save installation time, while providing enhanced flexibility and productivity in environments ranging from residential dwellings and educational institutions to meeting rooms and healthcare facilities.
Commercial, Office, Residential
Designed for use with Ortronics® TracJack and Series IImodules. PSB3 Device Box accommodates wireless. Accommodates communication or power wiring. FT-4 Flame Spread Rating.
Accepts all standard NEMA faceplates and keystone jacks
PSB3 device box accommodates wireless
Accommodates communication or power wiring
FT-4 flame spread rating
Designed especially for use in the installation of signal system and alarm wiring
Base has 1/2 in CRFB size knockout
Larger gang boxes available by special order
Twist outs on all four sides for PN03, PN05 and PN10 series raceways
1-channel capacity
600 VAC voltage rating
Single channel