NM DEEP DEVICE BOX 2G 2300 WHITE
Raceway Outlet Boxes
Wiremold®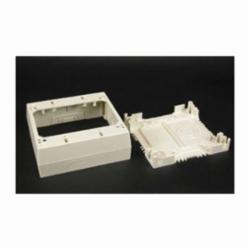 Wiremold® products work together seamlessly to save installation time, while providing enhanced flexibility and productivity in environments ranging from residential dwellings and educational institutions to meeting rooms and healthcare facilities.
Commercial, Office, Residential
Accommodates communication and/or power wiring. Durable, textured PVC ivory or white finish. Single- and dual-compartment low profile design. Adhesive backing for low voltage (under 50V)applications.
Accommodates communication and/or power wiring
Durable, textured PVC ivory or white finish
Single and dual compartment low profile design
Adhesive backing for low voltage (under 50V) applications
For deeper switches and devices
Base has rectangular kop to enable extension from existing flush wall box and 1/2 in and 1 in trade size concentric KO's
Accepts industry standard faceplates for switch and communication devices
Non-Metallic
Single channel