Minerallac Traditional®; 702 Beam Clamp, 3/8 in Rod, 750 lb Load, Malleable Iron, Zinc Plated
Rod to Beam Clamps
Minerallac Traditional®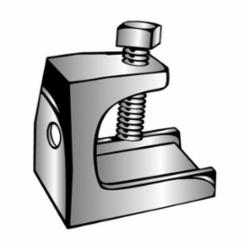 A brand of the Chicagoland-based Minerallac Company, the Black Claw™ line features premium fasteners constructed from high carbon steel to ensure a tight, secure "claw grip" on flanges, conduit, cable, studs and T-Bars. These products hail rave reviews from contractors for their strength and efficient installation. Strong, swift and efficient, Black Claw™ fasteners are some of the finest spring steel fasteners on the market. The Black Claw™ brand includes various conduit clips, strap hangers, beam clamps, metal stud fasteners, acoustical products, voice/data products and related hardware accessories for the construction and electrical industries.
For use with conduit hangers, bridle rings, and drop rods 3/8" to 1/2".
Case hardened steel set screw tapped at an angle locks on beam.