Milwaukee® 48-20-7330 MX4™ 4-Cutter Solid Tip, 1/4 in Dia x 4-1/2 in L, 2 in Cutting, 25/64 in SDS Plus® Shank, Carbide Cutting Edge, Solid Carbide
Hammer Drill Bits
Milwaukee®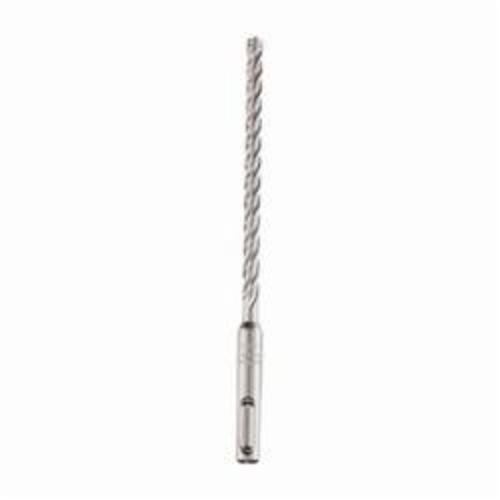 Milwaukee® MX4™ 4-Cutter SDS-Plus Rotary Hammer Drill Bits provide up to 4x Life in Rebar and up to 20% more holes per charge in cordless rotary hammers. The enhanced rebar guards and 4-Cutter 90 deg head design provide increased life and durability in hard aggregate and rebar. Breaker Point pulverize the material more effectively resulting in faster drilling speeds. The variable flute allows for maximum debris extraction leading to up 20% more holes per charge in cordless rotary hammers while making it a very durable bit in corded and cordless rotary hammers. Additionally, MX4™ features a centering tip for exact spot drilling, wear mark indicator indicating when the bit no longer meets ANSI diameter requirements and a reinforced flute for durability and minimized vibration.
Enhanced rebar guards provide increased durability
Breaker points lead to faster drilling speeds
Variable flute for up to 20% more Holes per charge in cordless rotary hammers
Features

4-Cutter, Solid Carbide Tip for Up to 3X Life in Rebar
Drills More Accurate Holes for Anchoring Applications
Centering Tip for Accurate Hole Placement
Won't Lock Up in Rebar
"