Maestro® MALV-600-WH MALV-600 Multi-Location Digital Fade Dimmer Switch, 120 VAC, 1 Pole, On/Off Mode, White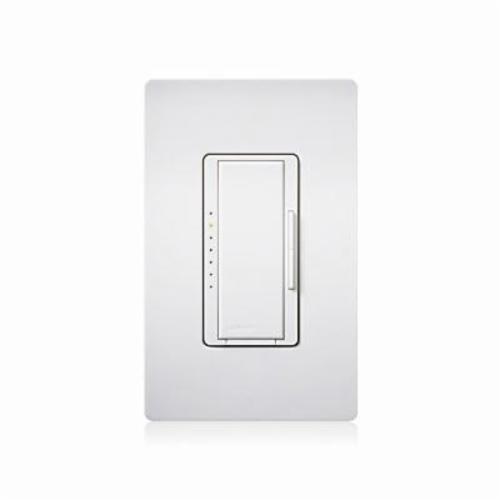 The Maestro dimmer provides an easy-to-operate tap switch that turns lights on/off to your favorite light level. Use the rocker dimmer to adjust lights manually. The delayed fade-to-off feature gives you 10-60 seconds to leave the room. Combine with Maestro companion dimmers to control a single light from up to 10 locations.
Controls 600 VA (450 W) magnetic low-voltage loads. Provides true dimming from each location (with companion dimmers).
High-tech "Smart Dimmer" with microprocessor technology for a standard designer wallplate opening
Features a clean, flush, stylish appearance
Special Features! two taps on the switch brings lights on to full brightness, press and hold the switch to slowly fade lights to off over 10 seconds
LEDs indicate light level and glow softly as a locator light in the dark
Multi-location dimming from up to 10 locations
Uses standard single pole and 3 way wiring for easy installation in any home
Raise from off
Power- failure memory
Frequency compensation
Includes radio frequency interference suppression
Front accessible service switch to disconnect load power
Electrostatic discharge tested
Precise color matching across all controls
Tap twice for full on
Press, hold and release for delayed fade-to-off
Touch rocker to adjust light level
Provides true dimming from each location (with companion dimmers)
Gloss finish