M.A. Ford® Edge Hog® 42312527 SC-2-D Imperial Carbide Burr, Cylindrical-Radius End (Shape SC), 5/16 in Dia x 3/4 in L, 2-3/4 in OAL, Double Cut
Carbide Burrs
PDW~11061164
MFG #: 42141
M.A. Ford®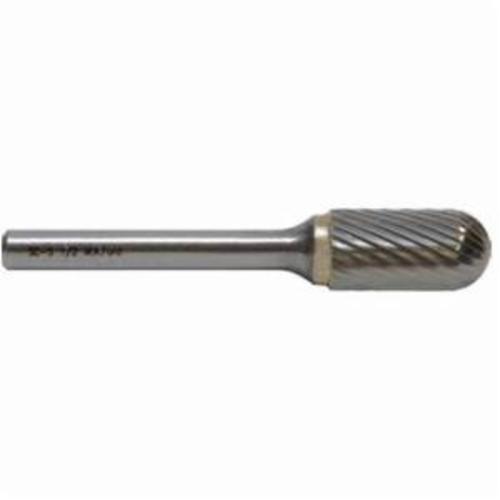 M.A. Ford® Edge Hog® Carbide Burr, Imperial, Series: SC-2-D, 5/16 in Burr Dia, 3/4 in Burr Length, 2-3/4 in Overall Length, Cylindrical-Radius End (Shape SC), Double Cut, 1/4 in Shank Dia, Carbide, Uncoated
Features

Standard Cut

Gives good material removal and good workpiece finishes.
Faster than double cut.

Double Cut

The addition of the left hand flutes reduces the pulling action, allowing better operator control.
It reduces the size of the chips and can be used at slower than normal speeds.
For extra fine finishing.
An alternate diamond grind has left hand fluting added to standard or fine cut fluting
Additional fluting helps break up chips when working steel weldments or other materials that can produce small or sliver type chips
A slight left hand cutting action typically provides the operator more control of the burr and grinder