Diva® DVSTV-WH DVSTV 3-Way Dimmer Switch With Switching Box, 120 to 277 VAC, 50 mA/8 A, 1 Pole, On/Off Mode, White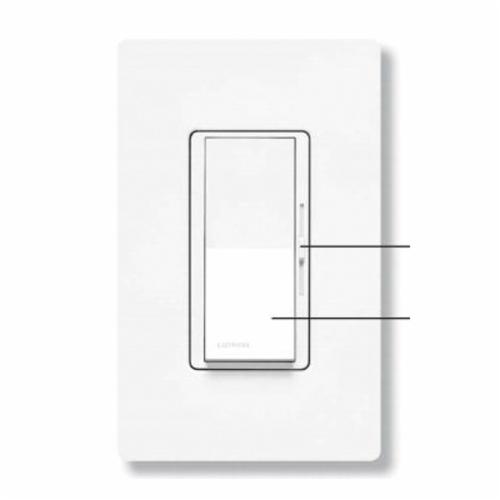 A simple and elegant solution designed to match your existing designer style switches and accessories. Easily turn the lights on and off with the paddle switch. While the lights are on, use the sleek slide control to adjust lights to your perfect level. The paddle switch returns the lights to your favorite level.
For applications requiring 0-10 V fixtures such as private offices and conference rooms
0-10 V control link controls third party fixtures
Patented switching technology extends product lifetime
High-end and low end trim user adjustable for optimal performance
Works with all ballasts and drivers that provide a current source compliant to IEC 60629 Annex E.2, and whose inrush current does not exceed NEMA410 standards for electronic ballast/driver loads of 8 A steady state current
Adjustable high-end and low end trim for optimal dimming performance
Power failure memory should power be interrupted, the control will return to its previously set level prior to the interruption when power is restored
Captive linear slider
Precise color matching
For indoor use only
Gloss finish
Controls 0-10 V LED or fluorescent fixture loads, 50 mA max control current. Paddle turns on/off. Slide up to brighten, down to dim.