2.00 ST CORD GRIP 1.562-1.688
Flexible Cord Connectors - Straight
Tuff-Seal™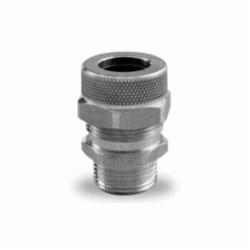 When what you really need and want is cord connectors & cable grips that meet specific application, environmental or performance requirements contact Remke Industries. Working with us means low minimum quantity requirements, labor saving options, and delivery in days - not weeks! Within the Tuff-Seal family of wire management products you can mix and match from our extensive selection of options to develop the product that meets your specific needs.
For use in indoor & outdoor applications to prevent cable pullout, control arc of bend, and to provide a tight seal against environmental elements such as dirt, moisture and coolants.
Available in NPT, PG, Metric or ISO threads. With our without stainless steel wire mesh.
A unique design with a combination tightening surface that includes both a hex area and a knurled surface
Optional embedded Viton® O-ring ensures a watertight and corrosion resistant seal
Aluminum excellent durability and performance for most industrial applications
Anti-friction washer that fits between the nut and bushing for easier compression
Metallic composition
NEMA 3, NEMA 3R, NEMA 4, NEMA 6 and NEMA 12 enclosure
IP52, IP54, IP65, IP67 IEC rating
2 in ID
0.8 in thread size
Form size 6