1.00 90 CORD GRIP .812-.938
Flexible Cord Connectors - 90 Degree
Tuff-Seal™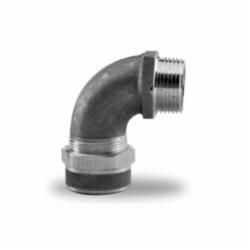 Tuff-Seal 90 deg RSR cord grips with external threads offer the same features as the straight RSR grips described on page 14. 90 deg grips can be ordered with or without wire mesh attachments, accommodate conduit sizes from 3/8 to 2 in and are available in machined aluminum, nylon and Valox™®. For applications known for their severe conditions - such as oil and gas, marine, food & chemical processing - RSR 90 deg Cord Grips are available in nickel-plated aluminum. Providing exceptional corrosion-resistance and high wear resistance, nickel plated connectors also feature an attractive finish similar to that of polished stainless steel. These Tuff-Seal grips protect cable from damage and pullout and are used in conduit hubs or knockouts at the point where the electrical cable is to be terminated.
For use in indoor & outdoor applications to prevent cable pullout, control arc of bend, and to provide a tight seal against environmental elements such as dirt, moisture and coolants.
Available in NPT, PG, Metric or ISO threads. With our without stainless steel wire mesh.
NEMA 3, NEMA 3R, NEMA 4, NEMA 6, NEMA 12 enclosure
IP52, IP54, IP65, IP67 IEC rating
Metallic composition