SolaHD SHP Modular Power Supply, 380/400 VAC Input, 24 VDC Output, 1500 W, 3 x 1.6 A, DIN Rail Mount
DC Power Supplies
SolaHD™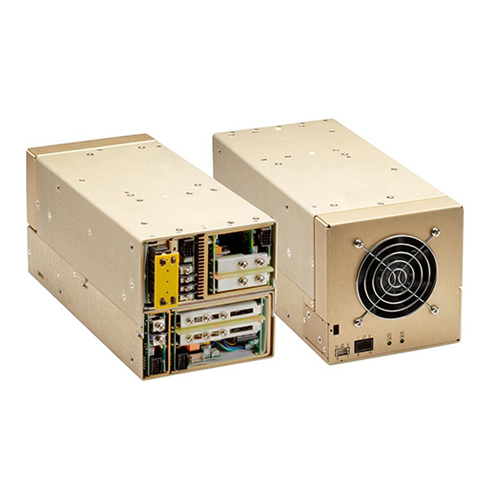 This new generation of high power, intelligent modular power supplies, range from 1500 through 4920 watts and were designed for optimum flexibility. The modular design makes these units easy to customize for unusual voltage and power combinations, and the intelligent modules allow the use of I2C or CANBUS/RS485 communication to monitor and control many attributes of the power supply. All units have power factor corrected inputs, an end mounted fan for cooling and a variety of built-in signals and controls. High reliability and a flexible design make these power supplies an excellent choice for process control and semiconductor fabrication applications.
Industrial Machine Control and Process, Conveying Equipment, Material Handling, Packaging Equipment
Compact packaging to save space on the DIN rail, Visual diagnostic LEDs for input and output status at a glance, High MTBF means high reliability and long life, Higher efficiency saves energy and lowers amount of heat generated in panel, PowerBoostTM overload capability to start high inrush loads, Accepts Universal voltage 85-264 Vac, 50/60 Hz input, Active Power Factor Correction, Patented DIN rail mounting clip, User Adjustable output voltage accessible via front face, Parallel capability standard, Large, rugged, accessible screw terminals.
Compact packaging to save space on the DIN rail
Visual diagnostic LEDs for input and output status at a glance
High MTBF means high reliability and long life
Higher efficiency saves energy and lowers amount of heat generated in panel
PowerBoost™ overload capability to start high inrush loads
Active power factor correction
User adjustable output voltage accessible via front face
Parallel capability standard, large, rugged, accessible screw terminals
Configurable output UP/DOWN sequencing
Modular Construction
Configurable input and output OK signals and indicators
Programmable voltage, current limit, inhibit/enable through I2C
Heavy duty
90 RH humidity range PCT
-40 to 70 deg C operating
85% efficiency
24 V at 62 A
Single phase