Fluke® VoltAlert™ FLUKE-117 Digital Multimeter, 600 VDC/VAC, 10 A, 40 MOhm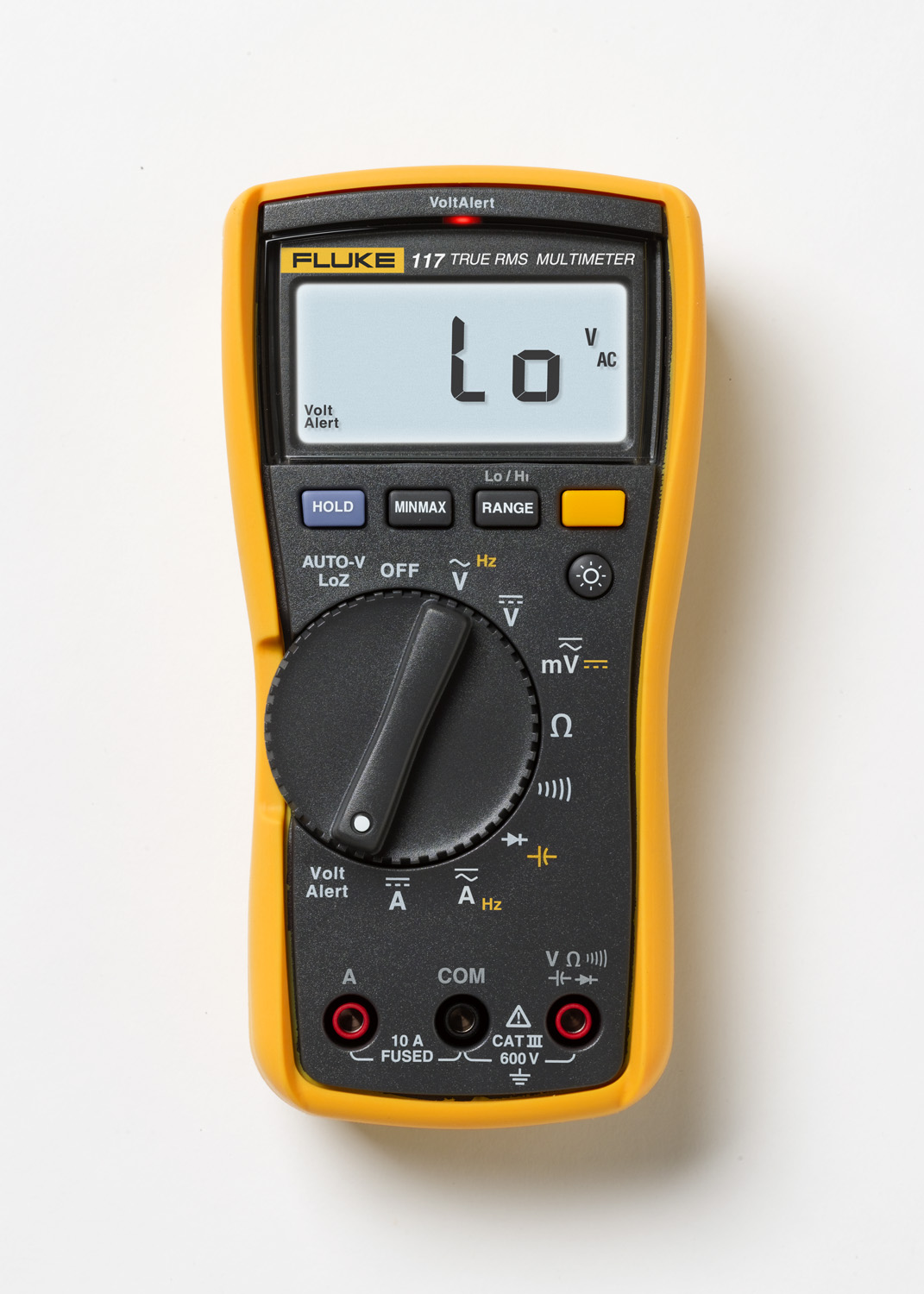 The Fluke 117 Digital Multimeter includes integrated non-contact voltage detection to help get the job done faster.
Designed by electricians and engineered by Fluke, the Fluke 117 is a compact True-RMS meter for demanding applications like commercial buildings, hospitals, and schools. With its integrated non-contact voltage detection, Auto Volts and LoZ functions that help prevent false readings caused by ghost voltage, the Fluke 117 is a great choice for electricians. In fact, users around the world have said their 117 is an investment in accuracy. The Fluke 117 provides Min/Max/Average readings and measures frequency and capacitance. Plus, its easy-to-use interface can save you time and enable you to move from job to job more quickly.
Engineered and Tested with Your Safety on the Job in Mind
We test Fluke 117 multimeters for safe use in CAT III 600 V environments and we have designed in several features to make it easier and faster for you to get the measurements you need, including:
Measures 10 A (20 A overload for 30-seconds)
Measures resistance, continuity, frequency, and capacitance
Provides Min/Max/Average to record signal fluctuations
Comes with an holster with probe holders for easy storage
Features compact ergonomic design for one-handed operation
Fits into optional ToolPak™ magnetic hanger for hands-free operation
CAT III 600 V safety rated
A large white LED backlight to improve measurement visibility in poorly lit areas
VoltAlert™ technology for fast, go/no go non-contact voltage detection
AutoVolt and low input impedance modes to provide faster, more accurate readings
Compact true-rms meter for commercial applications
VoltAlert™ technology for non-contact voltage detection
AutoVolt automatic AC/DC voltage selection
Low input impedance helps prevent false readings due to ghost voltage
Large white LED backlight to work in poorly lit areas
True-RMS for accurate AC measurements on non-linear loads
Minimum maximum/average with elapsed time to record signal fluctuations
Compact ergonomic design for one handed operation
Compatible with optional magnetic hanger (ToolPak®) for hands-free operation
2 deg pollution
0.5% 2 VDC accuracy
AC voltage at 45 Hz to 500 Hz- 600 V with accuracy of +/-( 2% 3), at 500 Hz to 1 kHz- 600 V with accuracy of +/-(4% 3), at 45 Hz to 500 Hz- 600 mV, 6 V, 60 V, 600 V with accuracy of +/-(1% 3), at 500 Hz to 1 kHz- 600 mV, 6 V, 60 V, 600 V with accuracy of +/-(2% 3)
Resistance range - 600 Ohm with accuracy of +/-(0.9% 2), 6 kOhm, 60 kOhm, 600 kOhm, 6 MOhm with accuracy of +/-(0.9% 1), 40 MOhm with accuracy of +/-(1.5% 2)
Capacitance range 1000 nF, 10 uF, 100 uF, 100 uF to 1000 uF with accuracy of +/-(1.9% 2), greater than 1000 uF with accuracy of +/-(5% 20)
Frequency range 99.99 Hz, 999.9 Hz, 9.999 kHz, 50 kHz with accuracy of +/- (0.1% 2)
400 hr typical alkaline, without backlight
Digital 6000 count, update 4/s display