Appleton® Wedge-Lok 270 Blank Clip Cover With Screw, 3/4 in Hub, For Use With Form 7 Unilet® Conduit Outlet Body, Steel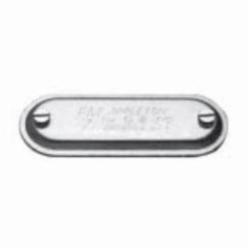 Electrical products that work flawlessly under the harshest conditions go unnoticed everyday. The Appleton brand has long been the hallmark for the protection of people and equipment while delivering reliable power. Count on certified protection for any environment, from ordinary commercial settings to harsh industrial conditions, in any region of the world. Our fittings lighting, and power distribution solutions are designed to operate without incident: because failure is not an option.
For wet location applications
Unique Wedge-Lok clip cover design allows easy removal without damaging the conduit body
Cover is secured with clips, not screws
Stainless steel screws
Approved for use in wet locations
0.8 cu-in as per NEC 314.16(A) wiring capacity
Screw-in mounting
Designed for use on loads too heavy to be supported by 1-hole straps.