Appleton® L-800 NEER™ Standard Conduit Locknut, 3 in, For Use With IMC/Rigid Conduit Fittings, Steel, Zinc Plated
Conduit Locknuts
Appleton™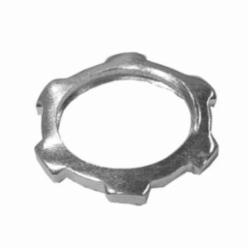 We offer a complete selection of steel, malleable iron and zinc fittings for rigid conduit and IMC. threaded and threadless, insulated or uninsulated non-insulated, watertight or general purpose, our conduit fittings, straps and accessories are available in all the sizes and configurations required to connect and support rigid conduit and to bond it to virtually any type of junction box or enclosure.
For securing threaded conduit or connectors with tapered or straight thread to a knockout or unthreaded slip hole.
Clean lines and precision manufacturing result in a fixture which will enhance any application.
Single cast thread eliminates cross-threading
UL Listed as a fittings locknut and stand alone rigid conduit locknut
All locknuts are symmetrical and can be assembled from either side
Conical flange on either side enters the knockout creating a 360 deg ground path
NPSL thread
Right hand thread direction
3/8 in thread