Appleton® BLSG-400 BLSG Liquidtight Sealing Locknut With PVC Gasket, 4 in, For Use With IMC/Rigid Conduit, Steel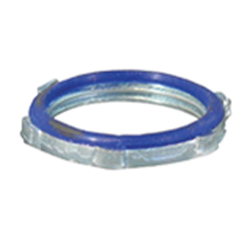 Appleton's liquidtight accessories are used for equipment installation and other applications that require flexibility and protection against entry of liquids, vapors or solids, such as machine tool building, robotics assembly and air conditioning.
Used to secure an ordinary nut from working loose by locking, itself when screwed down tight
UL Listed/NEMA Type 3R encapsulated enclosure for indoor and outdoor service; Electrostatically shielded for quality power on sizes 1 kVA and larger; Copper lead wire terminations; .500 - 45 kVA units are capsulated with electrical grade silica and epoxy for industrial applications. Rolled steel enclosure.