Allied Machine 131T-0025 Original T-A® 1 Series Replaceable Spade Drill Insert, 25/32 in Drill, 5/32 in THK, Standard, CPM-M4, TiN Plated
Spade Drill Inserts
PDW~7348086
MFG #: 131T-0025
Allied Machine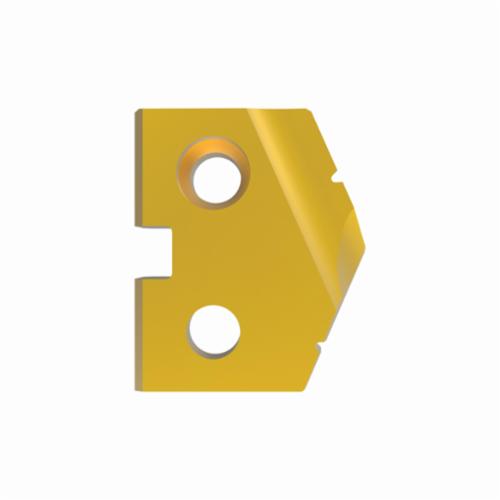 Original T-A® is an excellent choice for general purpose use. The design provides fast penetration rates that produce good hole size and finish. Standard geometry combines highly efficient and stable cutting action to minimize power consumption. Recommended for use in most steels, cast irons, high temperature alloys and aluminum alloys. Drill insert systems set the standard for replaceable insert technology, delivering consistent performance and reduced cost per hole, increased productivity and outstanding tool life.
Features

Fits T-A style spade drill insert holders.
High speed steel for good tool life & productivity with minimal cost.
Performs well in free cutting & carbon steels, as well as soft non-ferrous materials.

TiN Coating CPM-M4

Increased lubricity & heat resistance.
Allows for a 25% to 35% increase in machining speeds.

Gen2 Series Coated AM200 Super Cobalt

Coating developed by AMEC is ultra durable.
Provides for extended tool life for drill inserts.
Effective in high heat applications.
Has a helical margin which allows for greater tool life.
Smoother breakout on through holes.
Increased drill stability.
Improved chip formation.
"
Optimizes chip evacuation
Effective heat dispersion
Multiple geometry options
Accurate positioning
Eliminates center drilling
Increases point strength
Through coolant
Corner clips
Self-centering point