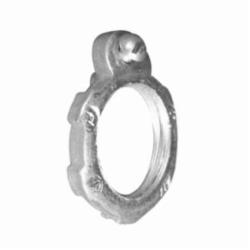 We offer a complete selection of steel, malleable iron and zinc fittings for rigid conduit and IMC. threaded and threadless, insulated or uninsulated non-insulated, watertight or general purpose, our conduit fittings, straps and accessories are available in all the sizes and configurations required to connect and support rigid conduit and to bond it to virtually any type of junction box or enclosure.
Used with bushings to bond threaded rigid conduit and IMC to boxes, cabinets or other enclosures where locknut is exposed.
Threaded for rigid conduit and IMC.
Used with bushings to bond threaded rigid conduit and IMC to boxes, cabinets or other enclosures where locknut is exposed
Right hand thread direction
5/8 in thread