Wiremold® RFB4E RFB Above Grade Concrete Recessed Floor Box, 4 Gangs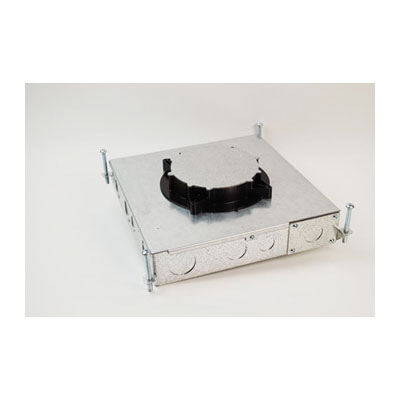 Resource RFB® Series of Floor Boxes are versatile recessed activation solutions that provide power, communication and/or audio/video services to open space areas, or directly to workstations. Resource RFB® Series Floor Boxes are available in two to six-gang models with a variety of aesthetic cover options including colors and profiles available.
4-gang floor box. 2" conduit feeds, multiple knockout sizes and location for maximum flexibility, large storage area for cable loops, accepts Evolution 6" style poke-thru covers.
Floor boxes accept 6CTC, 6CT and 6CFFTC Series covers
RFB4E floor boxes fit within 4-1/16 in deep concrete pour and RFB6E fits within a 4 in deep concrete pour
RFB4E floor boxes have four to six compartments that accept power, communications, or audio/video applications
RFB4E floor boxes have 2 in trade size knockouts
On grade and above grade floor box applications
RFB4E floor boxes allow a 2 in trade size conduit to attach to the side of box while minimizing concrete pours
The RFB4E floor box accepts 6 in evolution Series furniture feed covers, providing more flexibility and aesthetic options