Wiremold® RFB2 RFB Above Grade/On-Grade Recessed Floor Box, 2 Gangs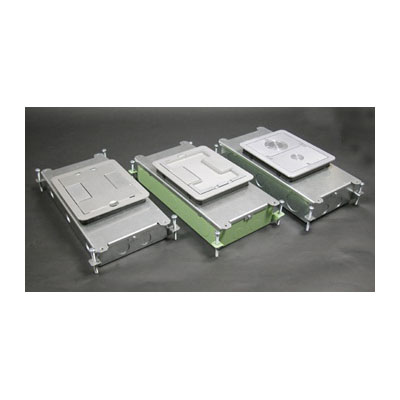 Resource RFB® Series of Floor Boxes are versatile recessed activation solutions that provide power, communication and/or audio/video services to open space areas, or directly to workstations. Resource RFB® Series Floor Boxes are available in two to six-gang models with a variety of aesthetic cover options including colors and profiles available.
2-gang floor box. Works in concrete and wood floors. Tunneling from one compartment to the other.
Provides the first recessed wood floor box for both commercial and residential applications
Special fusion bonded epoxy corrosion resistant paint finish allows for slab-on-grade use without the weight of cast-iron material
Allows a consistent aesthetic finish for both the RFB4 and the new RFB2 series recessed floor boxes
Reduces overall cost by providing for most cabling requirements
Labor savings by adapting to various pour depths and conditions
Allows for most conduit schemes, even feed through capability, which saves time and money during installation
Provides top guard protection from water, dirt and debris and has been redesigned for added strength and durability
Flexibility in design to have adjacent compartments wired together
Can adapt to most power and communication needs, reduces overall life cycle cost
Accepts industry standard and proprietary devices from a wide range of manufacturers to provide a seamless and aesthetically pleasing interface for voice, data, and video applications at the point of use