Wiremold® G4047BF 4047 Multi-Channel Overlapping Cover, For Use With 4000 Series Raceway, Steel, Gray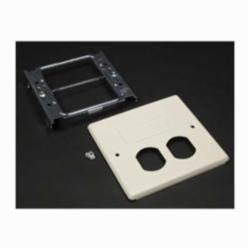 Wiremold products work together seamlessly to save installation time, while providing enhanced flexibility and productivity in environments ranging from residential dwellings and educational institutions to meeting rooms and healthcare facilities.
Large cross section area, provides ample space for largewiring requirements.Complete line of fittings, provides complete wiring solutionand allows for interconnection between raceway systems. Gray baked enamel and Ivory ScuffCoat finish makes a scratch resistant surface.
600 VAC voltage rating
2-gang duplex and mod furniture
Large cross section area provides ample space for large wiring requirements
Complete line of fittings provides a complete wiring solution and allows for interconnection between raceway systems
Gray baked enamel and Ivory ScuffCoat finish makes a scratch resistant surface
Accepts 15A and 20A duplex receptacles
Includes combination twist out that can accept either one Modular Furniture adapter, one 106 style frame, or two keystone RJ45s