Wiremold® AMDTP-412 AMDTP-4 Tele-Power Power Pole, 2 Outlets, 12 ft 5 in L x 3-1/2 in W, Aluminum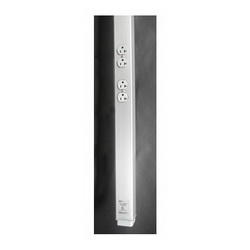 When looking to dress up a vertical solution, Tele-Power Poles with a satin anodized aluminum finish in either rectangular or round styles can provide the answer. Light weight aluminum construction makes these poles easy to install and maneuver on the job site. Available prewired with electrical devices or blank to drop services feeding another wire and cable management system, such as electrified modular furniture. A full range of accessories enables field configurability, or have them delivered to your specifications.
Bring power, data, and A/V services into open spaceenvironments quickly & easily. Custom capabilities. On-site configurability. A/V Compatibility. Datacom connectivity options.