Wiremold® AL5246-D AL5200 Large Multi-Channel Duplex Receptacle Cover Plate, 12 in L x 4-7/8 in W, Aluminum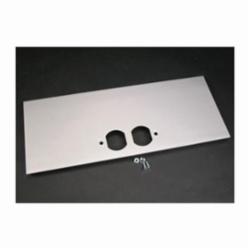 Wiremold products work together seamlessly to save installation time, while providing enhanced flexibility and productivity in environments ranging from residential dwellings and educational institutions to meeting rooms and healthcare facilities.
Satin anodized finish. Good-looking appearance, resists corrosion and is easy to clean and maintain. Numerous raceway channel configurations, able to accommodate your specific cable capacity requirements. Accommodates most standard flush mounted switches and receptacles, accepts devices up to 30 amperes to meet any job requirement.
Numerous raceway channel configurations, able to accommodate specific cable capacity requirements
Accommodates most standard flush mounted switches and receptacles
600 V voltage rating
Good-looking appearance, resists corrosion and is easy to clean and maintain
Able to accommodate your specific cable capacity requirements
Accepts devices up to 30 amperes to meet any job requirement
Dual channel capacity
Mounts standard duplex devices to cover