Wiremold® AL2006 AL Series Cover Clip, For Use With AL2000 and AL2400 Series Plugmold Raceway, Aluminum, Satin Anodized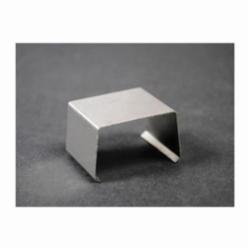 Plugmold® Multioutlet Systems are available in a wide variety of lengths and fittings and in a variety of finishes to provide versatile solutions for many applications. Plugmold options include single or alternating circuits, standard or isolated ground receptacles, GFCI protection, tamper-resistant protection, USB charging, Snapicoil® harnesses of prewired receptacles and cord-ended units. Plugmold® Multioutlet Systems are available in black or ivory ScuffCoat™ finish, painted white or gray enamel steel, stylish stainless steel, anodized aluminum and durable textured ivory nonmetallic. The painted steel product works with many types of decor and is paintable to integrate with most color schemes. Durable stainless steel and anodized aluminum Plugmold products are corrosion-resistant, making them ideal for labs.
Compact low profile design, Full range of fittings, one and two - gang device boxes.
For covering AL2406 joint where lengths of cover or base adjoin