Wiremold® 838TCAL OmniBox™ Floor Box Flange, 5.94 in L, Aluminum
Floor Box Flanges
Wiremold®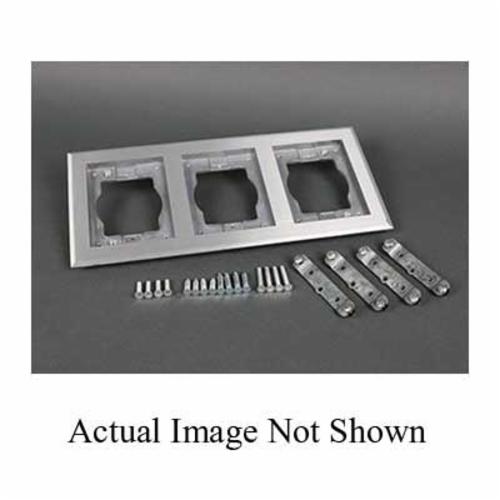 OmniBox™ series floor boxes provides an excellent activation solution when multiple services are required in open space areas. OmniBox™ series floor boxes offer one-, two-, and three gang multi-service boxes that are fully adjustable before and after the concrete pour. available in both stamped steel and cast iron fabrications, they meet a wide range of workstation requirements for today's and tomorrow's service needs. these floor boxes have many applications, some of which include schools, financial institutions, and commercial office buildings.
Available in one-, two-, and three-gang configurations. Removable dividers increase capacity. More configurations to support multiservice applications. Triple service boxes. Accommodates power, communication and/or audio/video devices which reduces the need for multiple boxes.
Fully adjustable box. fully adjustable both before and after concrete pour. reduces installation costs
Two fabrications stamped steel - lower cost concrete-tight construction option for above grade applications. cast iron watertight construction for on or below grade applications.
Available in two depths. economical alternatives when pour depths are limited
Flush activation assemblies for carpet and tile, aesthetically pleasing assemblies are interchangeable in both cast iron and stamped steel box models
Available in one-, two-, and three gang configurations, removable dividers increase capacity, more configurations to support multi-service applications
Triple service boxes, accommodates power, communication and/or audio/video devices which reduces the need for multiple boxes
Brushed aluminum covers for power applications, 830ck series aluminum covers redesigned to accept threaded conduit when passing through power cables
Brass and brushed aluminum covers accept single locking power receptacles. new 828dlr series provides single flip lid cover
828comtc series cover kit in brass and brushed aluminum, allows communication devices to be recessed into 880s and 880cs series floor boxes
Partition support kit for 3 gang tile flanges, 838tal-880 series flanges provide partition supports in tile applications for added strength and durability
Topguard protection, all cover assemblies for the omnibox floor box series have topguard protection, an integral design which keeps out water, dirt, and debris from the power and communication compartments, 1 gang die cast aluminum flange
Screw on mounting, 3 gang
Brass, brown color