Wiremold® 5507R-WH 5500 Multi-Channel Rectangular Faceplate, For Use With Rectangular Decorator Style Device, PVC, White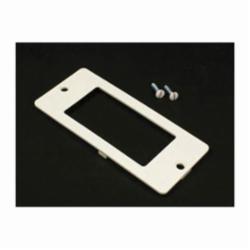 Wiremold products work together seamlessly to save installation time, while providing enhanced flexibility and productivity in environments ranging from residential dwellings and educational institutions to meeting rooms and healthcare facilities.
Adjustable mounting brackets. Color options. Compatible with A/V devices. Increased productivity. Concealed fiber storage spool.
600 VAC voltage rating
Compatible with A/V devices
Increased productivity
Concealed fiber storage spool
Adjustable mounting brackets
Concealed fiber storage spool
For covering rectangular decorator style devices
Non-Metallic