Wiremold® 5417FO-WH 5400 Internal Raceway Elbow, 90 deg Bend Angle, 2 in Bend Radius, 1-11/16 x 5-1/4 in, PVC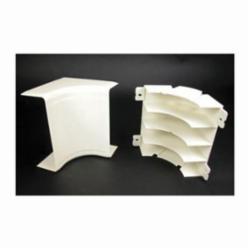 Wiremold products work together seamlessly to save installation time, while providing enhanced flexibility and productivity in environments ranging from residential dwellings and educational institutions to meeting rooms and healthcare facilities.
Commercial, Office, Residential
Large cable capacity in a low profile design. Twin Snap cover. Corner drop feed. Device mounting in-line, offset or both. Pre-punched mounting holes.
600 V voltage rating
Large cable capacity in a low profile design, twin snap cover, corner drop feed, device mounting in-line, offset or both, pre-punched mounting holes
For right angle turns around internal corners
Integral dividers provide 2 in (51mm) cable bend radius for UTP and fiber optic installations
Ideal for lay-in or pull through installations
Multiple channel, non-metallic