Wiremold® 5400C Full Width Raceway Cover, 8 ft L x 4-31/32 in W, Non-Metallic, Ivory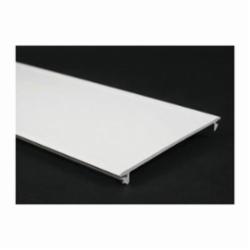 Wiremold products work together seamlessly to save installation time, while providing enhanced flexibility and productivity in environments ranging from residential dwellings and educational institutions to meeting rooms and healthcare facilities.
Commercial, Office, Residential
Large cable capacity in a low profile design. Twin Snap cover. Corner drop feed. Device mounting in-line, offset or both. Pre-punched mounting holes.
600 V voltage rating
5 in outside diameter
Accommodates needs now and in the future
Complete segregation of access to power and low voltage services for installation flexibility
Provides solution for feeding horizontal runs of raceway
These fittings snap onto overlapping raceway base and cover for anesthetic installation. fittings are up verified for a 2 in (51mm)bend radius and exceed the recommendations of tia/ EIA 569-a. they provide cable protection in lay-in and pull through cable installations
Manufactured to specified job site lengths, raceway comes completely prewired, ready to install. job scan be packaged by area, floor, or building and shipped per job site requirements
Eliminates guesswork and circuit tracing to speed additions and renovations
5507 series faceplates provide a/V compatibility for 5400 series raceway installations
Faster and easier raceway installation
Offers flexibility and up to three separate services at the same location
Lightweight and easy to cut. meets up flammability requirements. up listed for up to 600 V
Large cable capacity in a low profile design, twin snap cover
Use with 5400TB Series Raceway, available in 8 ft (2.44m) lengths, packed in 48 ft (14.6m) per carton