Wiremold® 30TP-J LOCK RECPT CVR 1.59IN.
Power & Communication Pole Covers
Wiremold®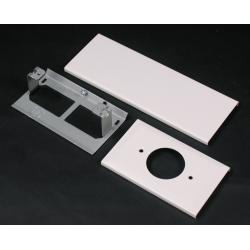 For field installation of receptacles with face diameters of 1.56" (40mm). G3007C Device Bracket included. Ivory finish.
Bring power, data, and A/V services into open spaceenvironments quickly & easily. Custom capabilities. On-site configurability. A/V Compatibility. Datacom connectivity options.
Bring power, data and A/V services into open space environments quickly and easily
Custom capabilities
On-site configurability
A/V compatibility
For field installation of single receptacles with face diameters of 1.56 in