Wiremold® 2711-WH 2700 Flat Raceway Elbow, 90 deg Bend Angle, 3/4 x 3/8 in, PVC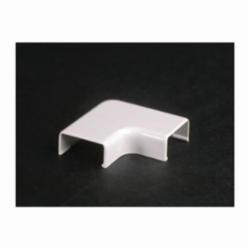 Wiremold products work together seamlessly to save installation time, while providing enhanced flexibility and productivity in environments ranging from residential dwellings and educational institutions to meeting rooms and healthcare facilities.
Commercial, Office, Residential
One-piece design. Easy open and snap-close latch. Durable, flexible hinge construction. Adhesive backing. Fiber compliant fittings.
One-piece design, easy open and snap-close latch, durable, flexible hinge construction, adhesive backing, fiber compliant fittings
Uniduct series raceway is not UL Listed and is only designed for use in protecting electrical cords, low voltage wiring and cabling
Makes right angle turns in 2700 series raceway on same surface