Wiremold® 25DTC-415 25DTC Tele-Power Blank Steel Pole, 15 ft 5 in L x 2-1/4 in W, Steel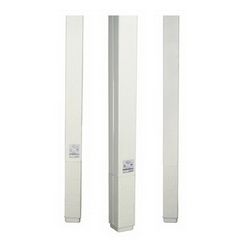 Steel Tele-Power Poles are the workhorse of vertical wire and cable management solutions. They are available either prewired with electrical devices or as blanks to feed services to other wire and cable management systems, such as electrified modular furniture. As the long time industry standard, steel Tele-Power Poles are available with an ivory enamel finish and are available in a variety of lengths. They also offer the flexibility of field configuration or can be customized to customer specifications.
Bring power, data, and A/V services into open spaceenvironments quickly & easily. Custom capabilities. On-site configurability. A/V Compatibility. Datacom connectivity options.