Wiremold® 25DTC-4-DG 25DTC-4 Blank Tele-Power Pole, 2 Outlets, 10 ft 4 in L x 2-1/4 in W, Steel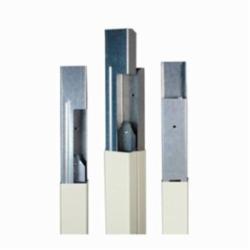 Two sections of a two-compartment pole (5 ft 4 in (1.626 m) base and 5 ft (1.52m) extender) assembles to form a 10 ft 4 in (3.148m) pole. nominal material thickness 0.040 in (1.0 mm). ivory or gray boot base. furnished unwired without outlets. mounting hardware, entrance end plate and ceiling trim plate furnished. an 8 in (203 mm) cover at top of pole is removable for making power wiring connections.
Bring power, data, and A/V services into open space environments quickly & easily. Custom capabilities. On-site configurability. A/V Compatibility. Datacom connectivity options.