T&B® LT50P Industrial Fitting Non-Metallic Liquidtight Bullet Connector, 1/2 in Trade, Straight, Thermoplastic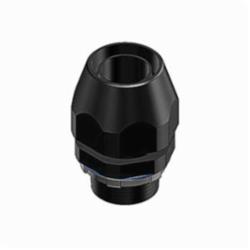 T&B® Liquidtight Fittings for flexible conduits are suitable for a wide range of installations. Our Liquidtight fittings are designed to stand up to demanding wet and corrosive environments, including power generation, petrochemical, paper mills, food, beverage, pharmaceutical plants and anywhere high performance is required.
T&B Bullet meets performance requirements when terminating Type B liquidtight non-metallic conduit or flexible non-metallic tubing to a box or enclosure with knockout opening or threaded hub.
Meets performance requirements when terminating Type B liquid tight non-metallic conduit or flexible non-metallic tubing to a box or enclosure with knockout opening or threaded hub
1/2 to 14 NPT thread specification