T&B® 5252 Industrial Fitting 52 Series Flexible Liquidtight Conduit Connector, 1/2 in Trade, 90 deg, Malleable Iron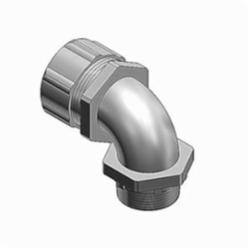 T&B® Liquidtight Fittings for flexible conduits are suitable for a wide range of installations. Our Liquidtight fittings are designed to stand up to demanding wet and corrosive environments, including power generation, petrochemical, paper mills, food, beverage, pharmaceutical plants and anywhere high performance is required.
Used where flexible metal raceway is installed in outdoor or indoor locations where exposed to continuous or intermittent moisture.
Ability to install quickly with low torque effort
To positively bond conduit to box or enclosure
9/16 in L thread