SolaHD STV 25K Surge Protective Device, 240 VAC, 47 to 63 Hz, 1 Phase
AC Surge Protective Devices
SolaHD™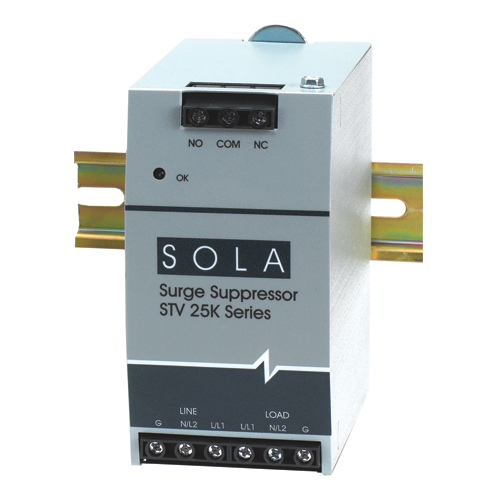 This series provides point-of-use protection, at the dedicated equipment level, against damaging transients. Ideal for installation in electronic control cabinets found in harsh industrial environments such as the factory floor or at remote locations. These devices provide 25,000 A of surge protection, sinewave tracking, LED status indication and form "C" dry contacts. This DIN-rail series also provides protection on all electrical paths and comes with a standard ten year product warranty.
Control Cabinets for Industrial Automation, Point-of-Use Industrial/Service Equipment, Remote Commercial or Industrial Equipment, Instrumentation and Large Test Equipment, Commercial and Building Automation Systems
Compact and narrow design maximizes panel space. Low clamping levels for more effective protection. Easy access terminal screws for quick mounting and installation. 25,000 amps of surge protection. Sine wave tracking and all mode protection provide consistent and reliable protection on all electrical paths. Thermal fusing prevents MOV caused by excessive current levels.
Compact and narrow design maximizes panel space
Low clamping levels for more effective protection
Easy access terminal screws for quick mounting and installation
Sine wave tracking and all mode protection provide consistent and reliable protection on all electrical paths
Thermal fusing prevents MOV overheating caused by excessive current levels
0 to 95% non-condensing environmental conditions
Parallel connection
Red/green LED indicator