SolaHD SDN9-12-100P SDN-P Power Supply, 115/230 VAC Input, 12 VDC Output, 108 W, 4/2.3 A, DIN Rail Mount
DC Power Supplies
435418
MFG #: SDN9-12-100P
SolaHD™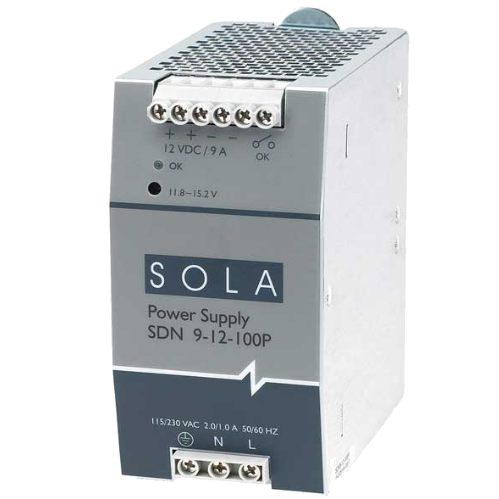 The SDN DIN Rail power supplies provide industry leading performance. Sag Immunity, transient suppression and noise tolerant, the SDN series ensures compatibility in demanding applications. Power factor correction to meet European directives, hazardous location approvals and optional redundant accessories allow the SDN series to be used in a wide variety of applications. Wide operation temperature range, high tolerance to shock and vibration and reliable design make the SDN series the preferred choice of users.
Industrial Machine Control and Process, Conveying Equipment, Material Handling, Packaging Equipment
Power Factor Correction (per EN61000-3-2), Auto Select 115/230 Vac, 50/60 Hz Input, DC OK Signal, Adjustable Voltage, Parallel Capability standard on all units, -10 DEG C to 60 DEG C operation without derating, Indefinite short circuit, overvoltage and overtemperature protection, Narrow width on rail for space critical applications, User-friendly front panel.
Power Factor Correction
Improved metal mounting clip
Adjustable voltage
Parallel capability standard on all units
Industrial grade design
Narrow width on rail for space critical applications
User friendly front pane
Highly efficient >90% switching technology
High MTBF and reliability
Narrow width on rail for space critical applications
User-friendly front pane
Large, rugged, accessible, multiple connection screw terminations
Easy installation
High MTBF and reliability
Screw terminal. 90 RH humidity range PCT
Internally fused
16 - 10 AWG, -10 to 60 deg C operating
84% efficiency
12 VDC at 9 A
Single phase