SolaHD SDN524480C SDN-C Compact Power Supply, 380/480 VAC Input, 24 VDC Output, 120 W, 3 x 0.5 A/2 x 0.7 A, DIN Rail Mount
DC Power Supplies
SolaHD™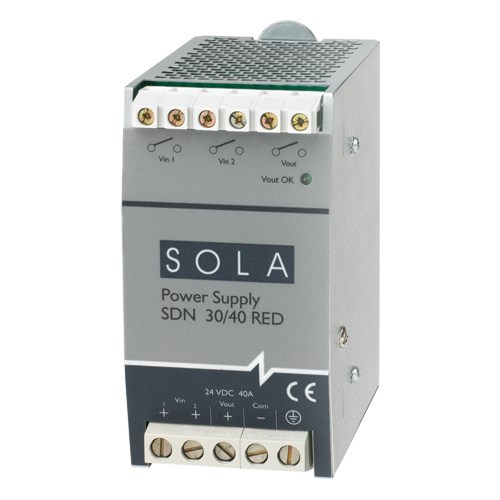 The SDN-C DIN rail power supplies are the next generation of the popular SDN series. These models combine high effi ciency and compact size with new visual diagnostic LEDs to offer the most performance available from SolaHD. Essential industrial features such as Sag Immunity, Power Factor Correction, and universal voltage input have been retained in this series. Wide temperature operating range and parallel operation capability make the new SDN-C units suitable to a variety of industrial applications.
Industrial Machine Control and Process, Conveying Equipment, Material Handling, Packaging Equipment
Compact packaging to save space on the DIN rail, Visual diagnostic LEDs for input and output status at a glance, High MTBF means high reliability and long life, Higher efficiency saves energy and lowers amount of heat generated in panel, PowerBoostTM overload capability to start high inrush loads, Accepts Universal voltage 85-264 Vac, 50/60 Hz input, Active Power Factor Correction, Patented DIN rail mounting clip, User Adjustable output voltage accessible via front face, Parallel capability standard, Large, rugged, accessible screw terminals.
Compact packaging to save space on the DIN rail
Visual diagnostic LEDs for input and output status at a glance
High MTBF means high reliability and long life
Higher efficiency saves energy and lowers amount of heat generated in panel
PowerBoost overload capability to start high inrush loads
Active Power Factor Correction
Patented DIN rail mounting clip
User Adjustable output voltage accessible via front face
Parallel capability standard
Large, rugged, accessible screw terminals
Industrial grade design
Fully tested and burned-in at factory
Highly efficient switching technology
Power factor correction to meet EN61000-3-2 Class A
Screw terminal. 90 RH humidity range PCT
16 - 10 AWG, -25 to 60 deg C operating
85% efficiency
24 VDC at 5 A