SolaHD SDN 20-24-480CD 480W, DIN Rail Mount Power Supply, 380/480 VAC Input, 24 VDC Output
AC Power Supplies
1079239
MFG #: SDN20-24-480CD
SolaHD™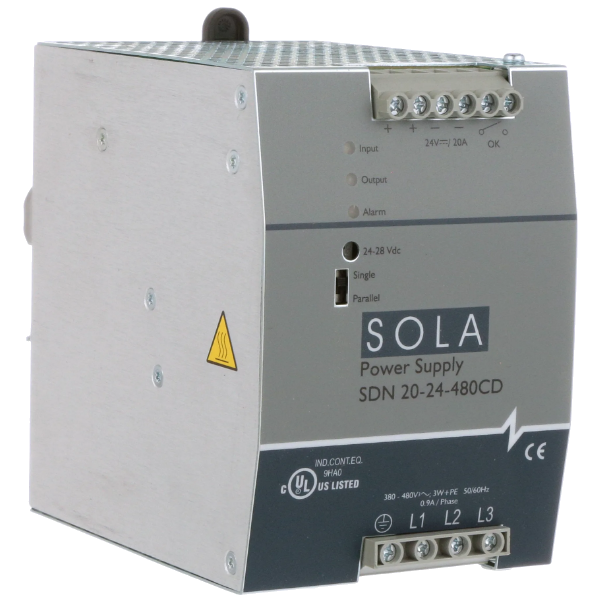 The SDN-C DIN rail power supplies are the next generation of the popular SDN series. These models combine high effi ciency and compact size with new visual diagnostic LEDs to offer the most performance available from SolaHD. Essential industrial features such as Sag Immunity, Power Factor Correction, and universal voltage input have been retained in this series. Wide temperature operating range and parallel operation capability make the new SDN-C units suitable to a variety of industrial applications.
Industrial Automation, Process Control, Material Handling and Conveyors, Hazardous Locations, Marine Applications
Universal Input; Convection cooling; DC OK LED; NEC Class 2 output; Protection: short circuit, over voltage, overload, over temperature; Two year warranty
Extensive international hazardous location certifications, including Class I, Zone 2, ATEX, IECEx, ExEAC. Hazardous location temperature code (T-Code) rating of T4.
PowerBoost enables short duration overload capability, to start loads with high inrush current.
Dual output terminals for convenience in wiring.
Universal AC and DC input voltages to accommodate global requirements.
Active Power Factor Correction on most models.
Supports redundant power supply operation using optional SDN™ Redundancy modules.