SolaHD HS1 Encapsulated Buck Boost Transformer, 120/240 VAC Primary, 12/24 VAC Secondary, 0.5 kVA, 60 Hz, 1 Phase
Buck Boost Transformers
SolaHD™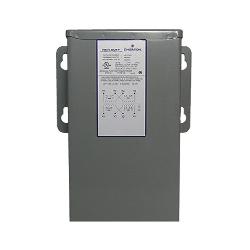 Buck-Boost transformers are small, single phase, dry type distribution transformers designed and shipped as insulating/isolating transformers. They have a dual voltage primary and a dual voltage secondary. These transformers can be connected for a wide range of voltage combinations. The most common use is to buck (lower) or boost (raise) the supply voltage a small amount, usually 5 to 27%. Buck-boost transformers are in compliance with NEC Article 210.9, Exception 1 when field connected as an autotransformer.
SolaHD encapsulated transformers are rated for hazardous locations and harsh industrial environments.
UL Listed/NEMA Type 3R encapsulated enclosure for indoor and outdoor service; Electrostatically shielded for quality power on sizes 1 kVA and larger; Copper lead wire terminations; .500 - 45 kVA units are capsulated with electrical grade silica and epoxy for industrial applications. Rolled steel enclosure.
Compact, lightweight, can be connected as an autotransformer
Buck-boost transformers are designed to supply power to low voltage lighting circuits, control panels or other systems requiring 12, 16, 24, 32, or 48 volts
They can handle loads up to 20 times the nameplate rating
Conduit knockouts for side entry into wiring compartment
UL listed/NEMA type 3R encapsulated enclosure for indoor and outdoor service
Electrostatically shielded for quality power on sizes 1 kVA and larger
500 to 45 kVA units are capsulated with electrical grade silica and epoxy for industrial applications
Rolled steel enclosure