NM CEILING FITTING PN05 IVORY
Raceway Connectors/Adapters
Wiremold®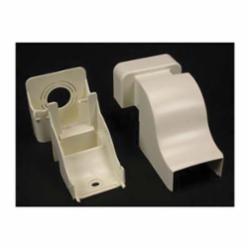 Wiremold cable management raceway products have been defining the cable raceway category as an alternative to electrical conduit for close to a century. Wiremold Raceway Systems Are Attractive, Cost-Effective Solutions For Bringing Electrical, Communication And A/V Cables And Wires Wherever They'Re Needed, In Virtually Any Type Of Room.
Commercial, Office, Residential
Designed for use with Ortronics® TracJack and Series IImodules. PSB3 Device Box accommodates wireless. Accommodates communication or power wiring. FT-4 Flame Spread Rating.
Designed for use with Ortronics TracJack and Series II modules
PSB3 Device Box accommodates wireless
Accommodates communication or power wiring
FT-4 Flame Spread Rating
PN5 Series Drop Ceiling Connector for dropping cables from ceiling into the raceway
Has 1/2 in and 3/4 in concentric trade size knockouts