Milwaukee® 48-20-4415 4-Cutter, 1-1/2 in Dia x 22 in L, 17 in Cutting, 3/4 in Spline Shank, Carbide Cutting Edge, Carbide
Hammer Drill Bits
Milwaukee®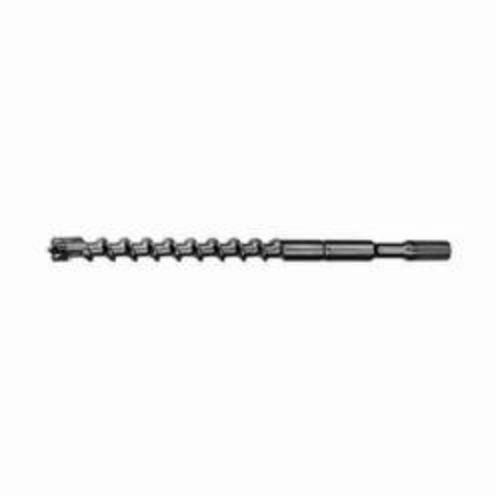 Milwaukee® Spline 4-Cutter Rotary Hammer Drill bits feature a 4-Cutter 4x90 deg tip geometry to avoid lock up in rebar, patented rebar chamfers for increased durability and a high volume flute for fast debris removal. Used for drilling holes in brick, block, concrete and reinforced concrete.
Brazing formula optimizes drilling for up to 20% longer life
Unique flute geometry provides efficient dust removal
Centering point and 4-cutter design provide accurate and precise round holes
Four cutter bits have a series of 13 spline that slide into an equal but opposite set of spline in the drive system of the spline drive hammer
This positive engagement of spline to spline allows maximum transmission of energy from the hammer to the bit
Superior quality carbide nibs are vacuum brazed to a heat treated steel body resulting in four cutting edges which pulverize the concrete as the bit turns and pounds the work surface
Features

1-1/2 in. diameter, 4-cutter head
Spline shank
Drilling depth 17 in.
Overall length 22 in.
"