Milwaukee® 2673-22 M18™ FORCELOGIC™ Press Tool Kit, 1/2 to 4 in Copper/1/2 to 1 in Stainless Steel Capacity, 7200 lb Ram Force
Pressing Tools
PDW~9342650
MFG #: 2673-22
Milwaukee®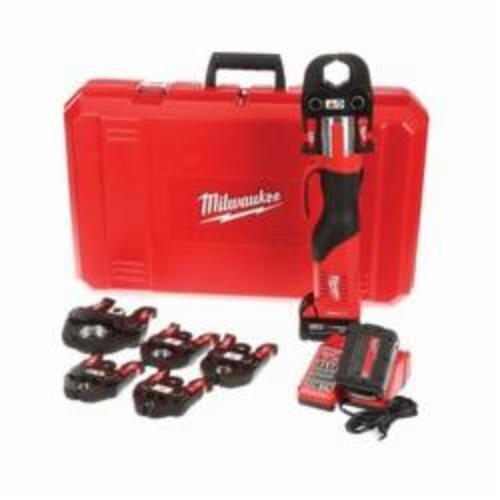 The M18™ Force Logic™ Press Tool is the smallest, lightest and most intelligent full size press tool in the market today. Featuring a one-handed, in-line design, the M18™ Force Logic™ Press Tool is not only offer the most ergonomic solution for navigating around installed pipes, but also deliver on the highest level of press accuracy and reliability available on the market. Utilizing Milwaukee® Redlink™ Electronics, the M18™ Force Logic™ Press Tool monitors the force output to ensure quality connections and provide the user peace of mind by visually indicating both a secure connection and when the tool needs calibration. Featuring the best calibration standard in the industry, the tool only require service every 40000 crimps. This allows users up to 4X more connections between services, keeping the tool on the jobsite up to 4X longer than competitive units. When used with M18™ Force Logic™ Press Jaws and Rings this tool delivers quality press connections on all major fitting brands including Viega® ProPress™ Systems, Elkhart® APOLLOXPRESS™ and Grinnell® G-Press copper systems. Powered by the M18™ Red Lithium battery means this is the only press system where you can Cut, Fasten and Connect on One System.
Features

The smallest and lightest full sized press tool in the market at only 8.0 lbs
Balanced, in-line design suitable for one-handed use
Press indicator provides visual assurance of a quality connection
Industry leading 40,000 Cycles between calibration inspections
Interchangeable jaws enable the quick adjustments from 1/2" - 2". Rings enable use up to 4"
M18™ System provides up to 35+ solutions on one pack
"
Smallest and lightest long throw press tool in the market at only 9.5 lb
Balanced, in-line design
Press indicator provides visual assurance of a quality connection
Industry leading 40000 cycles between calibration inspections
Shorter stroke provides faster press times on jaws and copper rings
M18™ system provides up to 35+ solutions on one pack
Cycle time 5 sec