McGill® 606 Utility Light With Glass Globe, Incandescent Lamp, 150 W Fixture
Outdoor Ceiling Lighting
McGill®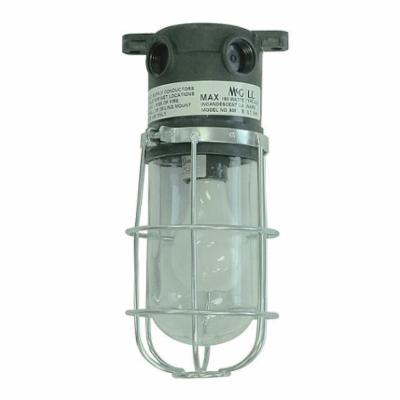 McGill™ incandescent utility lights are convenient to use. These low cost, corrosion-resistant, enclosed utility lights, are available complete with base, wiring box and globe. They are ideal for food processing plants, barns, garages, warehouses and workshops.
Food Processing Plants, Barns, Garages, Warehouses, Workshops, Wet Location
With Glass Globe, Use With 3/4 IN Threaded Rigid Non-Metallic Conduit, 3 1/2 IN Dia., Sealed unit for wet locations.
Fasten directly to walls, ceilings or structural members and no separate outlet box required
Glass or plastic globes screw out for easy replacement of A21 bulbs up to 150 W
High quality materials and sockets assure long, trouble-free service life
Moisture resistant construction with no exposed metal parts
Large compartment for easy wiring
For use up to 100 deg F ambient temperature
60 deg C supply wire rating
19.1 mm threaded conduit opening
(2) 7.9 mm Dia mounting holes on 111.3 mm centers
Sealed unit for wet locations
Super strong, impact-resistant, thermoplastic mounting unit
Accommodates up to 150 W maximum domestic A-21 bulbs