Maestro® MA-600-AL Digital Fade Smart Dimmer, 120 VAC, 1 Pole, On/Off Mode, Almond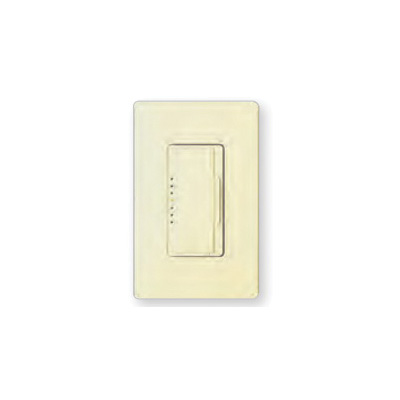 The Maestro dimmer provides an easy-to-operate tap switch that turns lights on/off to your favorite light level. Use the rocker dimmer to adjust lights manually. The delayed fade-to-off feature gives you 10 to 60 sec to leave the room. Combine with Maestro companion dimmers to control a single light from up to 10 locations.
Controls 600 W incandescent or halogen loads. Provides true dimming from each location (with companion dimmers).
High-tech smart dimmer with microprocessor technology for a standard designer wallplate opening
Two taps on the switch brings lights on to full brightness, press and hold the switch to slowly fade lights to off over 10 s
LEDs indicate light level and glow softly in the dark as a locator light
Multi-location dimming from up to 10 locations
Uses 3-way wiring for easy installation in any home
Raise from off
Power failure memory
Frequency compensation
Includes radio frequency interference suppression
Front Accessible Service Switch (FASS™) to disconnect load power
Electrostatic discharge tested
Precise color matching across all controls