Lithonia Lighting® Z232MV Z Series Strip Light, 2 Fluorescent Lamp, 120/277 VAC, Baked White Enamel Housing
Indoor Strip Lighting
Lithonia Lighting®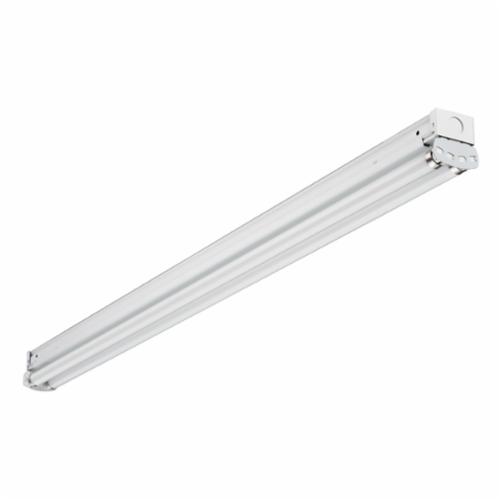 The industry's next generation in linear direct fluorescent products. This new compact, low-profile design offers our customers unique product features which improve the overall installation process and appearance while reducing labor cost, making it the most versatile solution for commercial, retail, manufacturing, warehouse, and cove and display applications.
Closet/Storage Room, Corridor, Light Commercial, Manufacturing, Retail
Ideal where high brightness and good illumination levels are required such as retail, light industrial and warehouses.
Ideal where high brightness and good illumination levels are required such as retail, light industrial and warehouses
Fixture can be assembled with snap together components and requires no tool, available in one lamp or two lamp configuration
Sturdy channel cover secured by captive quarter turn latch for easy access to wire way
Combination endplate/channel connector furnished with each fixture
Five stage iron phosphate pretreatment ensures superior paint adhesion and rust resistance
Instant start
Full light output-reduced energy
Less than 10% total harmonic distortion, multi-volt operation
Surface/suspended mounting
Patented-pending "three-point" row connector locks channel together for straighter and faster rows mounting
AWM, TFN or THHN wire used throughout, rated for required temperatures
Occupancy sensor control