Lithonia Lighting® TZL1NL9610000LMFSTMVOLT40K80CRIWH Tandem ZL Lensed Strip Light, LED Lamp, 120/277 VAC, White Housing
Indoor Strip Lighting
1295582
MFG #: TZL1N L96 10000LM FST MVOLT 40K 80CRI WH
Lithonia Lighting®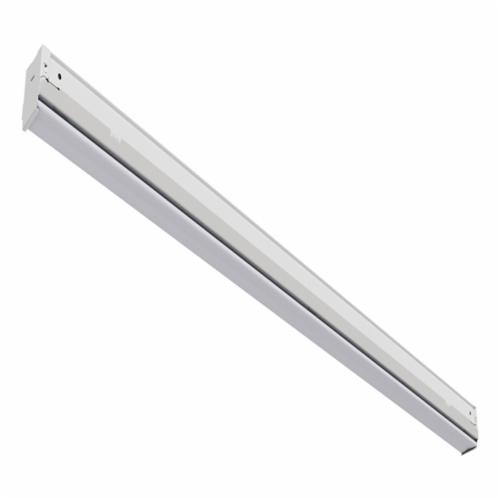 Lithonia lighting is committed to providing sustainable lighting solutions that are enabled and enhanced by LED lighting and other advanced technologies, including lighting controls.
Automotive & Parking, Education, Government, Healthcare, Hospitality, Manufacturing, Offices & Banks, Power & Gas, Religious, Residential, Retail, Sports and Recreation, Transportation, Warehouses
The ZL Series LED strip lights provide aesthetic and performance choices, integrated controls options and innovative mounting accessories ideal for commercial, retail, manufacturing, warehouse, cove and display applications. When paired with occupancy sensors, dimming and intuitive controls, you save energy and extend the life of the fixtures.
Optional internal pluggable wiring harness for reduced labor cost in row mounting applications
Built on the compact, low profile Z strip channel, this LED strip offers long life, several color temperatures, lumen outputs and lengths
Ideal for new construction and retrofit applications in both T5 and T8 lengths
Compact design channel and cover are formed from code gauge cold-rolled steel
Easy to install row aligner included for continuous row mounting
Five stage iron phosphate pretreatment assure superior paint adhesion and rust resistance
Utilizes high output LED integrated on a two-layer circuit board, ensuring cool running operation
LED static lamp
The ZL series LED strip lights provide aesthetic and performance choices, integrated controls options and innovative mounting accessories
When paired with occupancy sensors, dimming and intuitive controls, you save energy and extend the life of the fixtures
Lumen output up to 2000 lumens per foot
Luminaire should be installed in applications where ambient temperatures do not exceed 86 deg F (30 deg C)
Tool-less channel cover for easy installation
Fixture may be surface mounted (with or without ZSPRG hanger), pendant or stem mounted with appropriate mounting options
Three-point aligner locks in place for easy continuous row mounting
For use in damp locations between -4 to 86 deg F
Tandem double length fixtures
Cold-rolled steel