Lithonia Lighting® FMMCL Closet Decorative Indoor Lighting, LED Lamp, 10.4 W Fixture, 120 VAC, Gloss Housing
Flush Mount Lighting
1121032
MFG #: FMMCL 840 S1 M4
Lithonia Lighting®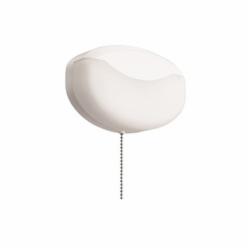 The LED closet light is perfect for lighting small spaces like pantries, stairwells and closets. The LED closet lights come in a variety of size and features and can be mounted to either the wall or ceiling. Available in 7 in, 18 in or 24 in these LED closet lights are low profile and perfect for any space needing bright illumination. Choose between either pull chain or motion sensored activation. The passive infrared (PIR) sensor provides automatic activation when someone enters the room and automatically turns off after 30 seconds of no motion. Both options are ENERGY STAR certified and offer 50,000 hours of maintenance free LED life.
Closet/Storage Room, Light Commercial, Residential
Provides general LED illumination in residential and light commercial applications. Ideal for use in closets, hallways, pantries, utility areas and more.