Carlon® E987N Non-Metallic Conduit Rigid Junction Box Without Knokout, 4 in L x 4 in W x 4 in D, Screw-On Cover, PVC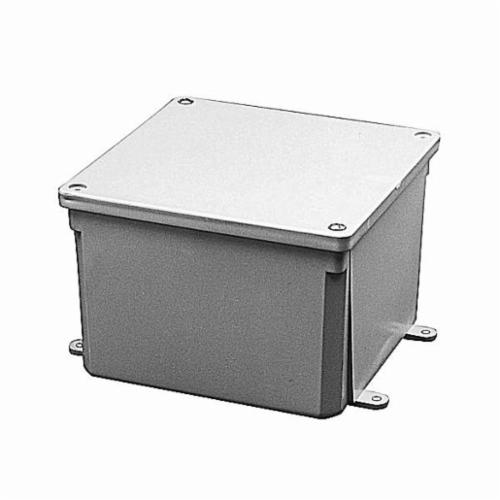 Carlon® products set the standard for non-metallic indoor and outdoor boxes, conduit bodies and fittings, enclosures and more. These premium products continue to supply the industry with innovative ideas, easier upgrades and a long, service-free product life.
For all the corrosion resistance and physical properties needed for direct burial applications
Manufactured from PVC or PPO thermoplastic molding compound and featuring foam-in-place gasket lids attached with stainless steel screws
Type 6P enclosures are intended for indoor or outdoor use, primarily to provide a degree of protection against contact with enclosed equipment, falling dirt, hose directed water, entry of water during prolonged submersion at a limited depth and external ice formation
Without knockout
The first non-metallic junction boxes are UL listed with a NEMA 6P rating per section 314, exception of the national electrical code
The first non-metallic junction box UL Listed with a NEMA 6P rating per Section 314, exception of the National Electrical Code.