Carlon® E945N Non-Metallic Conduit Expansion Coupling, 4 in, For Use With Schedule 40 and 80 Conduit, PVC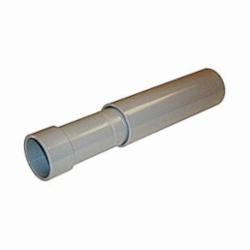 Carlon® products set the standard for non-metallic indoor and outdoor boxes, conduit bodies and fittings, enclosures and more. these premium products continue to supply the industry with innovative ideas, easier upgrades and a long, service-free product life.
Designed to compensate for length changes due to temperature variations in exposed conduit runs.
Exclusive molded in mid-point indicator on the piston.
Exclusive 2 in expansion fitting with an 8 in travel distance
Exclusive molded in mid-point indicator on the piston
2-piece molded design with lubricated seals for easier movement for the life of the product
Ridges on the fitting for easier installation, 2 in through 6 in only
Male terminal adapter end design
Two O-rings to prevent leakage
Can be installed vertically or horizontally
4 in female socket end
10.32 to 18.32 in opening
14.13 in L mid-point